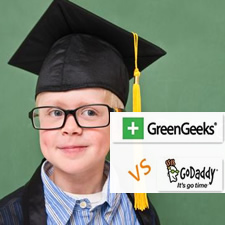 The GreenGeeks vs GoDaddy is a Linux web hosting comparison designed for readers lingering between the two popular companies. This comparison includes comprehensive information about GreenGeeks and GoDaddy, like plans & price, hosting resources, uptime & speed and technical support.
Both web hosts have been in this industry for a long time and accumulated rich experience on web hosting development. Thanks to the public praise, more and more people are attracted by the two companies. Here, we list the following rating table to show readers how reputable GreenGeeks and GoDaddy are.
GreenGeeks VS GoDaddy – Plans & Price
GreenGeeks offers one Linux web hosting solution, regularly starting at $6.95/mo. To make this package perfect for all customers, this company enables 43% discount via the promotional link shown as below and then cut the price down to $3.96/mo. When subscribing to the service, customers don't need to pay extra money for domain registration and website migration. There are also various marketing & SEO tools included in the hosting plan free of charge.
GreenGeeks Promotional Link Activation
GoDaddy has developed 3 packages for Linux web hosting, including Economy, Deluxe and Ultimate, which are originally pricing at $6.99/mo, $8.99/mo and $14.99/mo. And now, a 50% discount is valid for all solutions to make the price down to $3.49/mo, $$4.49/mo and $7.49/mo. Besides, this company also enables one free domain name available for annual plan.
GreenGeeks VS GoDaddy – Features
GreenGeeks and GoDaddy allocate sufficient hosting resources to each plan and leave webmasters enough room to develop their websites. When it comes to features, although both companies have done a great job, there are some differences between them. Check evidence in the following table. Note that, the plan of GoDaddy in comparison is Economy.
| Feature | | |
| --- | --- | --- |
| Disk Space | Unlimited | 100GB |
| Bandwidth | Unlimited | Unlimited |
| Websites | Unlimited | 1 |
| MySQL Databases | Unlimited | 10x1GB |
| FTP Accounts | Unlimited | 50 |
| PHP5 | Yes | Yes |
| Perl | Yes | Yes |
| Python | Yes | Yes |
| Cron Jobs | Yes | Yes |
| Control Oanel | cPanel | cPanel |
Both web hosts support the latest version of PHP, Perl and Python as well as integrate with the most user-friendly cPanel. Besides, they also enable multiple applications, like WordPress, Drupal and phpbb, for creating individual websites, blogs, business sites or forums.
However, in terms of resource allocation, GreenGeeks has done much better because the disk space, bandwidth, websites hosted on one account, MySQL databases and FTP users are available for customers without limitation.
GreenGeeks VS GoDaddy – Uptime & Speed
GreenGeeks data center is located in Chicago, and it is SAS 70 Type 1 certified. This company knows very well how important a reliable hosting environment is thereby utilizing dual-city grid power feeds, on-site diesel generator and plus battery backup in case of a power outage. Under this condition, GreenGeeks guarantees at least 99.9% uptime as the statistics shown in the following chart.
GoDaddy also invests a lot on the data center covering 270,000 square foot in Phoenix. This company utilizes cutting-edge technologies to strengthen all facilities so as to deliver stunning uptime to each hosted website. Before making this comparison, we have also tested GoDaddy uptime for 30 days and get a result as below.
For hosting speed, GreenGeeks and Godaddy attach great importance to the maintenance of web servers so as to guarantee fast server response. According to the following record, we can find that GreenGeeks have done a better job.
GreenGeeks VS GoDaddy – Technical Support
GreenGeeks has a professional support team consisting of multiple experts specialized in web hosting. People can contact the support staffs via live chat, phone and email in anytime, which are recognized as the 3 the most effective ways to get valid solutions. Besides, a large number of hosting tutorials and beginner's guides are also available.
Godaddy supports the communication methods of phone and email but fails to enable live chat. The support team stays online 24 hours a day, 7 days a week and keeps updating help articles regularly so as to help people get help in time.
Summary – GreenGeeks Is Worth Going
In the aspects of affordability and reliability, both companies are worth going. However, GreenGeeks can provide customers with more possibilities and higher performance. Thus, GreenGeeks is the better option for webmasters.