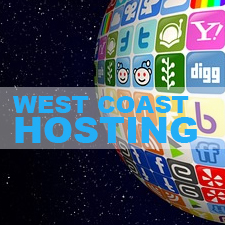 For readers looking for a web host from West Coast, we recommend InMotion Hosting, Arvixe and WebHostingHub to readers based on their West Coast data centers, rich features, great reliability, fast speed, world-class technical support and affordable price.
To make sure objectivity, we have experienced the coast web hosting services from these companies for at least 3 months together with a elaborate reading of a heap of reviews from customers in the real world.
Data Center
As known, hosting location has much influence on search engine rankings. Hosting websites in the country or region where the main target visitors are located can have more desired readers. Websites with fast loading speed not only get a better ranking in search engines, but also convert more sales as more trust-worth for visitors nearby.
Therefore, a data center located in the west or central part of US is important for webmaster promoting their websites with local business. That's reason why we take it as a criterion that each of our recommended web hosts should have at least 1 data center in these areas. InMotion, Arvixe and WebHostingHub have a dedicated data center in Downtown Los Angeles.
Price
InMotion, Arvixe and WebHostingHub all provide cost-effective web hosting plans with effective price lower than $5.0/mo. InMotion Launch plan, which we choose for this review, is $3.49mo; Arvixe personal-class shared web hosting plan is $2.8/mo after used the coupon code BWH360 – 30% off the regular $4.0/mo, and WebHostingHub web hosting plan is pricing from $1.95/mo. Readers should note that the price we mentioned above are discounted price.
| | InMotion | Arvixe | WebHostingHub |
| --- | --- | --- | --- |
| Regularly | $6.99/mo | $4.00/mo | $6.99/mo |
| Discounted | $3.49/mo | $2.80/mo | $1.95/mo |
| Activation | Promo Link | Coupon: BWH360 | Promo Link |
Features
As we reviewed, InMotion, Arvixe and WebHostingHub are much more rich-featured than their competitors. Their web hosting plans come with all the basic hosting features including unlimited disk space, monthly data transfer, PHP 5, MySQL 5, as well as the following compelling features.
| Feature | InMotion | Arvixe | WebHostingHub |
| --- | --- | --- | --- |
| Free Domain | 1st Year | Lifetime | 1st Year |
| Addon Domains | 2 | 6 | Unlimited |
| Hosting Sites | 2 | Unlimited | Unlimited |
| PHP | Yes | Yes | Yes |
| Ruby on Rails | No | Yes | No |
| Python | Yes | Yes | Yes |
| MySQL | Yes | Yes | Yes |
| PostgreSQL | No | Yes | No |
| Shell (SSH) Access | No | Yes | No |
| Money Back Guarantee | 90 days | 60 days | 90 days |
| Price From | $3.49/mo | $2.80/mo | $1.95/mo |
| Website | inmotionhosting.com | arvixe.com | webhostinghub.com |
Speed
Page loading speed is always a vital factor for the success of websites, especially business websites, so we only recommend web hosts with page loading time average less than 2 seconds. InMotion, Arvixe and WebHostingHub have met this standard for they are all connected to 4 tier-1 ISPs via BGP and have a BGP route optimizer to ensure customers' data is routing through the fastest routes.
As the performance data of the same sample site hosted with these 3 hosts, the comparison of server response time is as the following chart. On average, InMotion is much faster than other competitors, because InMotion restricts the sites hosted on 1 account. Moreover, InMotion offers free SSD to speed up the sites hosted with their hosting packages.
Reliability
All of our recommended web hosts have been proven far exceeded their guarantee of 99.9% uptime. Their data centers are well equipped with 24×7 security, UPS, Intel generators and routers from Cisco. Besides, they all have a dedicated team with experienced technicians working on the network in case that any unexpected latency or downtime happens.
Particularly, we have monitored InMotion hosting since Feb. 1, 2012. We found that the actual uptime is nearly 100%. See the past 30 days' uptime as following: