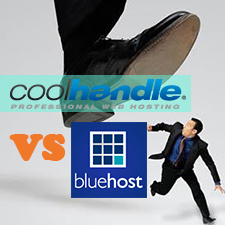 This CoolHandle VS BlueHost comparison is mainly based on price, features, reliability, page loading speed, technical support, and industry reputation. Note that the result is 100% objective and trustworthy, which comes from our in-depth review, real-world performance testing, and verified customer feedbacks.
Before writing this comparison, we have hosted 2 small sized Joomla sites on the 2 companies' shared platform for months, and kept monitoring every aspect of the sites closely. Besides, we have read a lot of customer reviews on the web. Learn the ratings of the hosts' in the table below.
| Rating | | |
| --- | --- | --- |
| Plan in Comparison | Professional | Starter |
| Reliability | | |
| Loading Speed | | |
| Technical Support | | |
| Feature | | |
| Price | | |
| Sales Now! | 44% Off | N/A |
| Starting At | $3.95/mo | $29.95/mo |
| How to Claim | Link Activation | Link Activation |
Price
To be frank, there is no need to compare the 2 companies in terms of budget-friendliness, for the web hosting service offered by CoolHandle is absolutely more expensive than that offered by BlueHost.
BlueHost only offers an all-in-one hosting package named as Professional Web Hosting that is priced at $6.99/mo, $7.99/mo, and $8.99/mo for the 3-year, 2-year, and 1-year plan respectively. However, in order to give more people the opportunity to sign up with its service, this company now has offered a 44% discount, with which customers can purchase starting at $3.95/mo effectively by visiting through this exclusive promotion link.
In terms of CoolHandle, its hosting solutions may not be affordable for the majority of webmasters. This host offers 3 plans that are called Starter, Business, and Pro. To get them, customers need to pay $29.95/mo, $39.95/mo, and $49.95/mo respectively.
| Price | | |
| --- | --- | --- |
| Plan in Comparison | Professional | Starter |
| Regular Price | $6.99/mo | $29.95/mo |
| Sales Now! | 44% Off | N/A |
| Starting At | $3.95/mo | $29.95/mo |
| Money Back | Anytime | 30 Days |
| How to Claim | Link Activation | Link Activation |
In addition, both of the 2 companies offer the 30-day full refund guarantee, but BlueHost is more risk-free and worry-free as it also allows an anytime prorated money back policy.
Features
In this part, both of the 2 companies have offered the rich-featured hosting packages, coming with an unlimited allocation of disk storage and bandwidth, free domain name, cPanel control panel, free site builder, 1-click app installer, hundreds of popular scripts, and almost all the latest advanced technologies like SSH, Python, PHP 5, Perl, Ruby On Rails, CGI, Cron Jobs, CloudFlare, and many more.
However, as compared deeply, BlueHost is better as it also offers unlimited domain hosting and free advertising credits for Google AdWords, Twitter, and Facebook, but CoolHandle just fails to offer these benefits.
| Feature | | |
| --- | --- | --- |
| Plan in Comparison | Professional | Starter |
| Disk Space | Unlimited | Unlimited |
| Bandwidth | Unlimited | Unlimited |
| Domain Hosting | Unlimited | 5 |
| Free Domain | | |
| Python | | |
| Perl | | |
| cPanel | | |
| CGI | | |
| Ruby on Rails | | |
| 1-Click Installer | | |
| Advertising Credits | | |
| | Learn More | Not Recommended |
Reliability
Both of them are claiming to guarantee at least 99.9% uptime. To figure out whether they can keep this promise, we have carried out an uptime monitoring with Pingdom for more than 6 months. As a result, they have achieved a good uptime track record with almost no downtime at all.
BlueHost, in particular, strives to guarantee the highest level of reliability by leveraging the power of quality dual quad processor performance servers and multiple world-class data centers. It is worth noting that all of the 3 server spaces are self-built, featuring UPS power backup, diesel generator, multiple 10 gigabit Ethernet connections, nationwide fiber network, and 24/7 facility monitoring, etc. By holding the full control of the data center infrastructure, this host can fix and prevent any unexpected problems effectively without the need to contact the third party IDC company.
Hosting Speed
In addition to uptime, we also have tested their hosting speed by monitoring their server response time. As a result, BlueHost absolutely offers the faster hosting service with an average of 320ms for server response.
To achieve such an excellent hosting performance, BlueHost not only utilizes robust web servers and cutting-edge data centers, but also develops some advanced neat tools to segregate CPU, disk I/O and memory, eliminating the possibility of being negatively affected by abusive neighborhoods to the largest extent.
Technical Support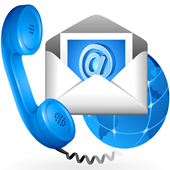 In fact, both of the two web hosts view technical support seriously. They offer quality support service that is available 24 hours a day and 7 days a week with a group of experienced experts. Once people encounter some problems and ask them for help, they can offer the best resolutions at once with an appropriate manner. As surveyed from hundreds of real customers, almost everyone has had an excellent support experience.
However, BlueHost has done a better job in this aspect as it allows customers to contact them via multiple channels like phone, e-mail, and live chat, but CoolHandle just doesn't offer the online chat support, causing great inconvenience to non-English speakers.
Summary
According to this comparison, BlueHost is definitely the better web hosting choice than CoolHandle, for it offers cheaper price, richer features, faster hosting speed, and better customer service. Besides, with its anytime money back guarantee, there is no need to worry about the waste of money.