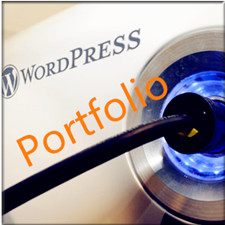 An increasing number of people prefer to install WordPress plugins to add functionality to their sites. Portfolio plugins, security plugins, redirect plugins and others are springing up for webmasters to use. This time we are focused on discussing portfolio plugins. Since there are too many portfolio plugins with different qualities and feature in the marketplace, it is possibly hard for you to choose a suitable one.
With the purpose of helping you to find the best portfolio plugins, we reviewed plenty of this kind of items based on features and users' feedbacks. Finally, we find some excellent ones as follows. Now, move on to the details and pick the most appropriate one for yourself.
Portfolio
This plugin enables you to create a rich-featured page for displaying each portfolio item with many screenshots and additional information like description. To be specific, you are able to create a template with page navigation for displaying all portfolio items. Also, you can change image size and use multiple images for display. Besides, the latest version 2.2.7 with useful features is already available.
WordPress Portfolio Plugin
WordPress Portfolio Plugin allows you to present portfolio in one page on your WordPress website. To be more specific, the plugin with automatically generated website thumbnails is time-saving for you to show portfolios. In order to assist you to use this plugin more efficiently, you need to register for a free account with Shrink The Web. Moreover, holding this flexible plugin, you have the ability to fully customize the layout and use a custom image instead of a screenshot.
Download WordPress Portfolio Plugin

Portfolio Post Type
Portfolio Post Type made by a famous WordPress developer has been already downloaded by a large number of webmasters and went through users' tests. This plugin is focused on offering a custom post type of portfolio items. Specifically, the featured image is displayed in the column view once you select a suitable one. Besides, if you need to customize the display for portfolio items, you have to add templates, because this plugin includes no built-in feature of changing the way to display portfolio items.

Portfolio Slideshow
This plugin can be integrated easily with your designs of a website and offers you plenty of options to customize your site. In detailed, you are able to use unlimited custom slideshow sizes and Standalone slideshow editor to better show off portfolio items. What's more, you have the ability to preferably display portfolio items with full-screen mobile galleries. All in all, the plugin enables you to add a simple, stunning and responsive JavaScript slideshow to your website.
Page Flip Image Gallery
Page Flip Image Gallery aims to help you show off portfolio items, especially images, in a preferable way. You are able to display photos and publications with image galleries. Besides, it offers you 3 packages to upload images including batch upload, upload Zip-file and upload from URL. Additionally, this plugin also provides you with FlippingBook WP gallery page editor to assist you to design image display.
Download Page Flip Image Gallery

Testimonials by Aihrus
Testimonials by Aihrus offers you an amount of flexibility for catering to your testimonial needs. To be specific, you are able to list selected portfolio items like images and videos easily and quickly. In addition, you have an approach to display one or more testimonial shortcodes or widgets on a page. More importantly, after carefully reviewing the users' comments, we found out that many people think highly of this plugin.
Download Testimonials by Aihrus
Nimble Portfolio
This free plugin enables you to design a rich-featured media gallery on your WordPress website, which means you are able to better show off your projects, photos, picture, videos an more. Besides, the built-in jQuery sort filters and PrettyPhoto lightbox are available for you to create and customizes the content of your media gallery. Nimble also offers you configurable default skins with 3 beautiful options. Meanwhile, this plugin includes Youtube, Quicktime and Vimeo support.
OTW Portfolio Light
OTW Portfolio Light is designed to help you add portfolio functionality to WordPress site. Specifically, there are 3 awesome column templates at your disposal to display portfolio items with category. Meanwhile, it offers 2 templates, Filterable and Paginated, to display portfolio items in a preferable way. As for portfolio settings, you are able to change the default image sizes for each item. In addition, it includes Twitter, Facebook, YouTube and Google+ supports.