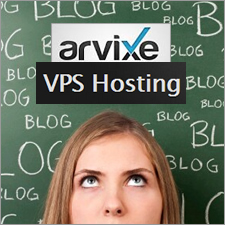 Arvixe, established in 2003 by Arvand Sabetian, is a professional and world-class company dealing with shared, reseller, dedicated servers and VPS hosting service. It is proud to supply customers with a rare combination of unbeatable affordability, quality and reliability. And more, due to its excellence and superiority in the web hosting field, this company has been awarded for numberless times.
In below, we would like to have an all-rounded review on this company's VPS hosting service from customer sentiment rating, pricing, features, support and performance aspects, and make clear why Arvixe VPS hosting is worth a try.
In below, there are editorial ratings on this company's VPS hosting quality.
Customer Sentiment Rating
What shines in Arvixe VPS hosting is that this company receives overwhelming recognition and appreciation from a wide range of webmasters. From the submitted 140 Arvixe customers' reviews, there are 96.4% users are happy with the overall VPS hosting service. You can check more information in the following chart or pay a visit to this review page.
Pricing & Packages
To largely cover individual needs and demands, Arvixe offers webmasters Linux and Windows VPS hosting service. For the price, we will focus on the Linux VPS hosting afterwards. In the Linux hosting, this web host generously provides customers with three selectable packages – VPS Class Lite, VPS Class and VPS Class Pro.
Furthermore, Arvixe rates each plan at the different prices of $20/mo, $40/mo and $70/mo. Considering the built-in features, you will find that this company is quite affordable indeed. A $100 value Google AdWords Voucher and a $75 Bing/Yahoo! Voucher are available.
With the purpose to protect people' benefits and money, this web host offers unhappy customers a 60-day un-contractual money back guarantee.
Features
As the hosting feature is the mostly-emphasized and concerned aspect in VPS hosting, Arvixe endows a handful of robust features in the plans. In details, all plans can successfully run on CentOS 6 operating system, and come with the root administrative access which enables all users to access the current operating system and install their preferred software and applications without any limit.
What's more, to enhance the security and integrity of data or files, all plans are packed with SFTP/Shell Access service and SSL certificate. And each plan includes free domain name for life and consists of unlimited FTP accounts, sub-domains, domain aliases, mail boxes, hosting accounts, etc. Among all the plans, the entry level – VPS Class Lite plan is set with 20GB disk space, 1GB memory, 2 CPU cores, 1 IP address and unlimited monthly bandwidth.
As for the other two plans, there are more powerful features available. The easy-to-use cPanel, which comes with Softaculous Script installer, allows webmasters to have an automatic and easy software installation. With the VPS Class Pro plan, you can obtain up to 8 100GB disk space, 3GB memory, CPU cores, 2 IP addresses and unlimited monthly bandwidth as well.
Performance
Arvixe VPS hosting is fully managed by their professional and responsible support personnel. That means, customers can fully rest on this company's support ranging from the server related failure to daily site maintenance. To make sure server runs without any interruption, this company adopts DDoS attack response technology and all-day-night security updates.
Arvixe also attaches great importance to server performance by equipping all data centers located in New Jersey, Dallas and Chicago with the SAS 70 Type II certification. In the meantime, it runs all mail servers on SSD drives in RAID 10. From our monitoring results in the passing months, Arvixe keeps 445ms server response time and approximately 99.99% network uptime. It is rather encouraging and satisfying.
Support
As a customer-oriented company, Arvixe commits to serving all customers heart and soul. It gets all users well-equipped with 24×7 live chat, email ticket and phone call support. And more, to serve as many customers as possible, this company has US-based tech support during the US day time, while it has Middle East or Indian techs during the US night time. Both supports are experienced and knowledgeable.
For some independent customers, Arvixe provides them with sufficient solutions and answers in the knowledgebase. And customers are allowed to discuss their own issues and exchange related experience with other users in the discussion board.
Conclusion
In summary, Arvixe VPS hosting is highly recommended for people who are in search for a feature-rich, ultra-reliable, fast and affordable web host.