Set up in 2003, Name.com is a subsidiary of Rightside – a domain name registration service company, and it deals with SSL certificate, email, web hosting and website builder service, etc. GoDaddy, established in 1997, is a privately-operated company which is an ICANN-accredited domain registrar and web hosting provider.
For webmasters who have no ideas on whether to go with Name.com or GoDaddy, we would like to have a side-by-side comparison between the two companies. In details, we will focus on some top-concerned areas in shared hosting service including features, price, support and performance. Now, let's move on and get to the point.
| Rating | | |
| --- | --- | --- |
| Reputation | | |
| Reliability | | |
| Feature | | |
| Speed | | |
| Technical Support | | |
| Price | $4.99/mo | $3.49/mo |
Pricing Policy
Firstly, let's start with the pricing policy which is given the highest priority especially for people who are tight in budget. In Name.com, there are a total of three packages, and they are named as Basic, Namebuilder and Unbelievable respectively. Although the packages are regularly rated at $6.99/mo, $10.99/mo and $16.99/mo, they only charge for $4.99/mo, $7.99/mo and $12.99/mo for annual billing cycle.
Likewise, GoDaddy also has three selectable shared hosting plans which are Economy, Deluxe and Ultimate. Normally this company starts the plans at $6.99/mo, $8.99/mo and $14.99/mo. After promotion, it reduces the original prices to $3.49/mo, $4.49/mo and $7.49/mo, which are 50% off the regular rate.
Hosting Features
By all accounts, the built-in features are what set apart the average from the exceptional. In this respect, Name.com and GoDaddy share some characteristics in common. For example, they both include the trouble-free cPanel admin panel which is integrated with a one-click installer.
However, Name.com and GoDaddy have their own strengths and weaknesses which are displayed as follows. Note that we pick out the Basic plan and Economy plan from Name.com and GoDadd.com separately to make a fair and free comparison. Scroll down and know more details as follows.
| Features | | |
| --- | --- | --- |
| Plan in Comparison | Basic | Economy |
| HDD | 10 GB | 100 GB |
| Monthly Bandwidth | 100 GB | Unlimited |
| Hosted Websites | 1 | 1 |
| Free Domain Name | | |
| Control Panel | cPanel | cPanel |
| One-Click Auto-Installer | | |
| 99.9% Uptime Guarantee | | |
| Full Refund Guarantee | 30 Days | 45 Days |
| Email Addresses | 100 | 100 |
| MySQL Databases | 10 | 10 |
| FTP Accounts | Unlimited | 50 |
| Perl | | |
| PHP | | |
| Ruby on Rails | | |
| Conclusion | Not Recommended | Not Recommended |
Reliability & Performance
As is stated, Name.com promises webmasters at least 99.9% network uptime. However, it is dubious that this company has no any clue regarding data centers or infrastructures. Moreover, according to our collected data, their servers are said to extremely unstable, which go down periodically.
GoDaddy claims to invest heavily on hardware and guarantees industry-leading loading time. However, as a matter of fact, it turns out to be an empty promise, and the fast server connectivity is a far-fetched dream for GoDaddy clients. From our performance test conducted during the past several months, we're astounded to find that this web host averages 784ms in loading time, which is fairly frustrating and disappointing.
Customer Support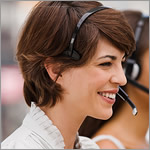 Name.com is proudly to deliver registrants with fabulous hosting experience whether through phone call or email ticket. However, in the meantime, it also sets forth in agreement that the mentioned support portals are not 24×7-based and only available from 8:00 a.m. to 8:00 p.m. on workdays, not to mention the national holidays like Christmas and Thanksgiving days.
Comparatively, GoDaddy offers clients English-based phone call and email system support. However, this company excludes the most efficient online chat support which causes more or less troubles especially for non-English speakers. To top it off, some GoDaddy customers point out that the support staffs tend to bombard them with advertisement without giving any constructive suggestions.
Final Judgement
To sum up, neither of Name.com and GoDaddy is recommendable for webmasters who are eager to find a high-performance, helpful, feature-rich web host at a well-balanced price. In this case, we have the following alternative web hosting solutions for you.