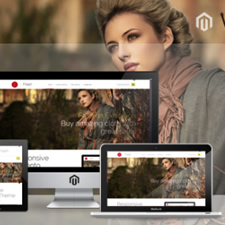 As an open source project for eCommerce building, Magento comes with a large number of premium and responsive themes which boost visits and sales by making it a visual pleasure to browse online stores on mobile devices. A beautifully designed and well-functional Magento theme is essential to success.
Having searched through multiple large theme marketplaces including Mojo Themes and ThemeForest, we now select some of the best responsive Magento themes to introduce here.
Atenis
Website: http://www.mojo-themes.com/item/atenis-responsive-magento-theme/
Atenis is a modern and elegant theme for online fashion stores built with Magento. Highly integrated with the Magento backend, Atenis is easy-to-customize that you can manage the blocks in homepage, header and footer directly in the dashboard. With built-in extensions, the template comes with slideshows, vertical mega menu, sliders for different products, and more, which enables you to showcase products and manage the needed features in an efficient way. Besides, the newsletter support allows people to subscribe to your store for notifications of new services and products.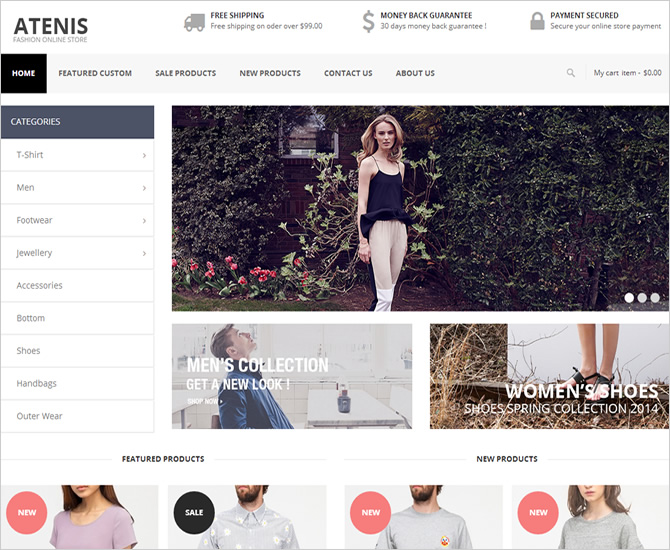 Perseus Responsive Magento Theme
Website: http://www.mojo-themes.com/item/perseus-responsive-multipurpose-html-theme/
Perseus is a template that allows you to sell all kinds of products including gifts, clothing, digital goods, jewelries, food, wine, etc. The banner-like slideshow showcases the highlighted services or attractive products of your store, and the Hot Sale Items part makes it easy to browse the best-selling goods. Also, the social media integration connects your store with Facebook, Twitter and many other popular social networks. This template is perfect for large stores with many different types of goods to deal with.
Black & White
Website: http://themeforest.net/item/blackwhite-responsive-magento-theme/7120758
Developed with HTML 5 and CSS 3, Black & White comes with a clean and clear design which makes it easy for your visitors to pick a product that they like. Just like many other premium themes, it has a large slideshow with eye-catching effects for showcasing important products and newest promotions. At the same time, it is prepared with many content areas which are fully customizable in the backend. Other highlights include Ajax loading, unlimited theme settings, 5 built-in color schemes, full-width support and mega menu extension.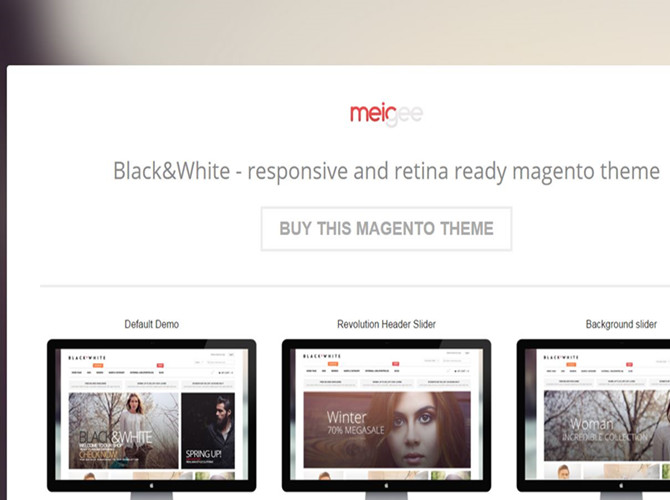 Candybox
Website: http://meigeeteam.com/themes/candybox-magento-responsive-theme
Candybox is a premium theme with advanced admin module, which is designed with a great deal of customizability, easy to use and fully responsive. In addition, this theme comes with a lot of features, including unlimited colors, used icons font, header cart, Ajax feature and product hover. More highlights are listed in below.
2 layouts wide and boxed.
Many types of slideshows.
Editable product image size.
Magento WordPress integration ready.
Happy Day
Website: http://www.templatemonster.com/magento-themes/50782.html
Happy Day is a premium and fully responsive Magento template packed with the pro version of Menu Creator, a super useful tool for the management of mega menus. Suitable for large stores with numerous categories of products that are hard to manage, Happy Day makes it simple for you to create a large number of mega menus which are easy-to-recognize. As there are many places for banners, the theme is a really good choice for selling fashion goods and luxury.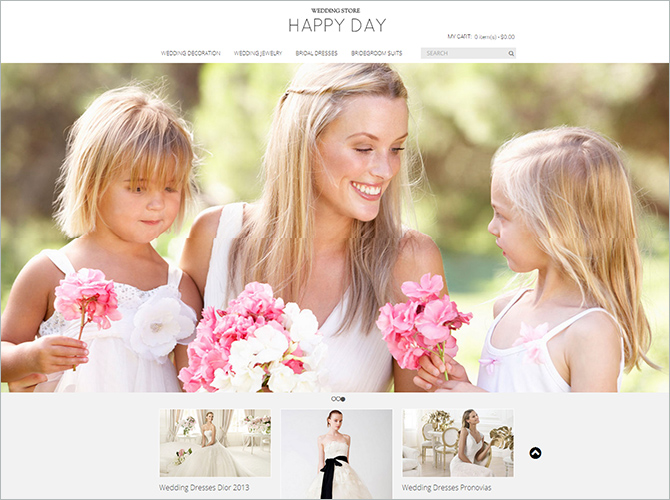 PERFECTUM
Website: http://themes.magniumthemes.com/?theme=mgpf&ref=arjunamgain
PERFECTUM is a perfect theme for people to build a beautiful pet store, which is designed with optimization for fast loading, compatibility with all major browsers and open source, and great customizability. By using this theme, users are able to design a unique homepage that features the product listing with many special offers to make new products navigation 100% user-friendly and assure visitors don't miss a single thing.
Key Features:
Responsive design.
Advance configurable design with full admin controls.
Advanced extension configuration from admin.
Flexible layout with 1-column, 2-column-left, 3-column display and 2-column-right.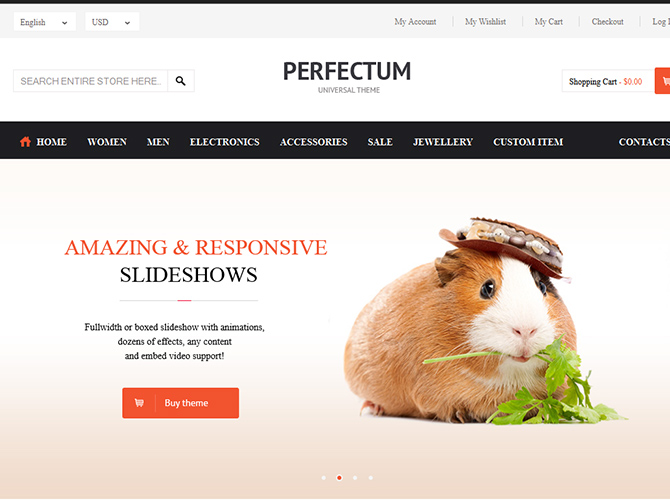 Coffee
Website: http://www.templatemonster.com/magento-themes/51849.html
This is a typical Magento template for a kid shop. The theme is bright and breezy in style but capable of supporting heavy stores like a cameras store and a cosmetic shop. Hence, it can be useful for anyone looking for a powerful and tailor-made template. Apart from traditional features like slideshow banners and featured products slider, it builds an enhanced multilingual site associated with social networks, thus it surely attracts buyers from different countries.
HelloMix
Website: http://www.hellothemes.com/themes/hellomix/
HelloMix is a professionally designed theme dedicated to online cosmetic stores which concentrate on female consumers. Knowing the targeted customers' demands on an elegant, attractive and modern design, HelloMix is simple but includes many excellent features. 8 colors schemes are prepared, so you are able to choose the main color as pink, red, blue, green, orange and more. Besides, there are sliders for new products, brand logo, upsell products and related products.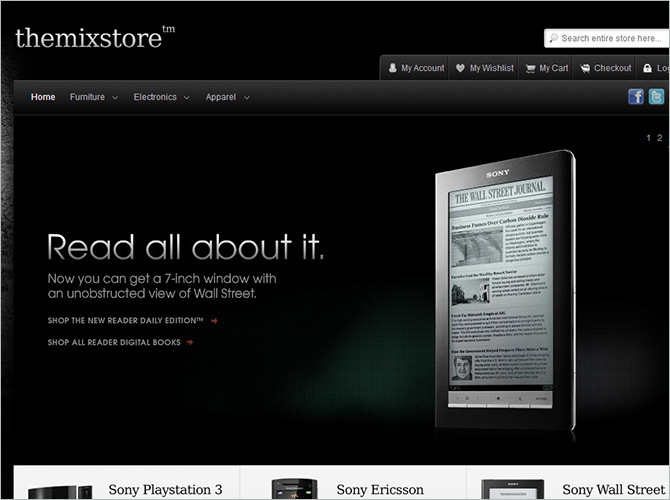 Hello Loja
Website: http://www.hellothemes.com/themes/helloloja/
Hellp Loja is not just a Magento template. It is a care-taker. It cares about you. As the theme is responsive and colorful, you can choose whatever effect you like through the powerful admin panel. Besides, it cares about your customers, as the banners take them to wherever they want. The shopping cart is always there at command. Moreover, Hello Loja cares for fashion. It moves fashion from stage to page.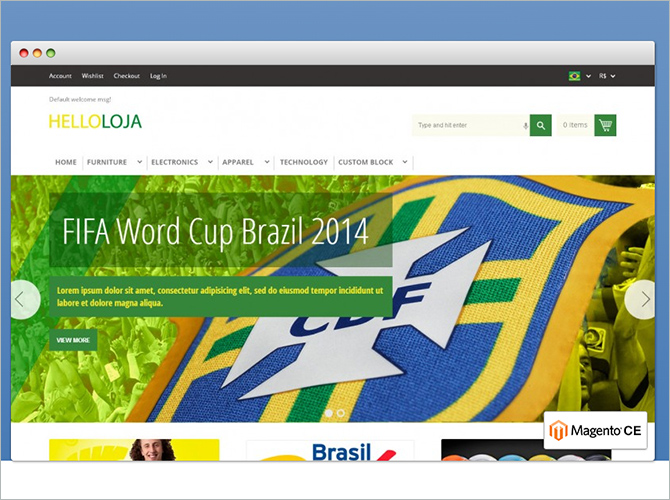 Balloons Joy
Website: http://www.templatemonster.com/magento-themes/51832.html
Balloons Joy is an flexible and powerful premium Magento theme with retina-ready and responsive design, which is wonderful for any kind of store and comes with lots of awesome features, such as Ajax price slider, custom grid modes, revolution slider, quick install package, and so on. Some outstanding features are listed as below.
2 layouts for main page.
Unique colors for categories.
Quick view & wide menu.
Integration with Cloud Zoom & Lightbox.
Em Fashionist
Website: http://www.emthemes.com/responsive-magento-themes/em-fashionist.html?ref=697
em fashionist 2 is a fully responsive theme with innumerable features and tremendous possibilities of customization , suitable for all types of products. It was designed with a primary concern on usability and user experience, designed to make shopping easy, quick and fun. With this theme, you can change the visual appearance of almost every element and the colors of dozens of elements, apply textures, upload custom background images.
2 tabs for custom content.
Hide slideshow on mobiles.
Custom links & custom content blocks.
Fluid products grid & customizable grid.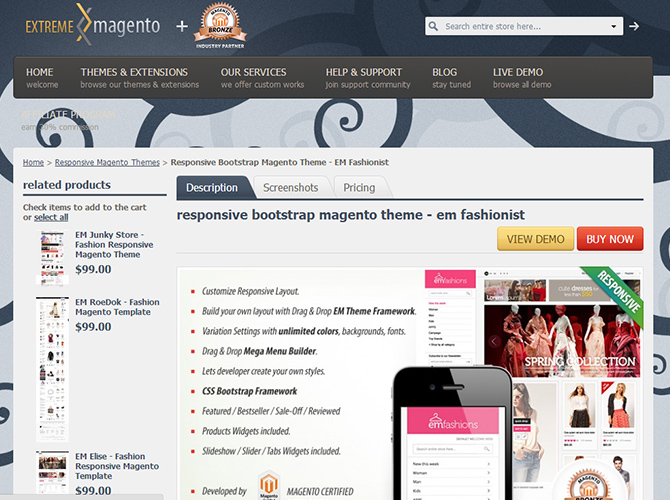 Blanco
Website: http://themeforest.net/item/blanco-fluid-responsive-magento-theme/2370280
Blanco is easy to use and customize, which comes with many features like 2 variants for menu, powerful admin module, slideshow, new products display on homepage, extra links and blocks, and so on. This theme is fully compatible with heavy stores which have a variety of languages and currencies to create convenience for customers around the world.
Highlights:
Related products slider.
Slideshow designed perfectly for touch screens.
Background uploading facility thorough admin panel.
Possibility of the template color scheme change.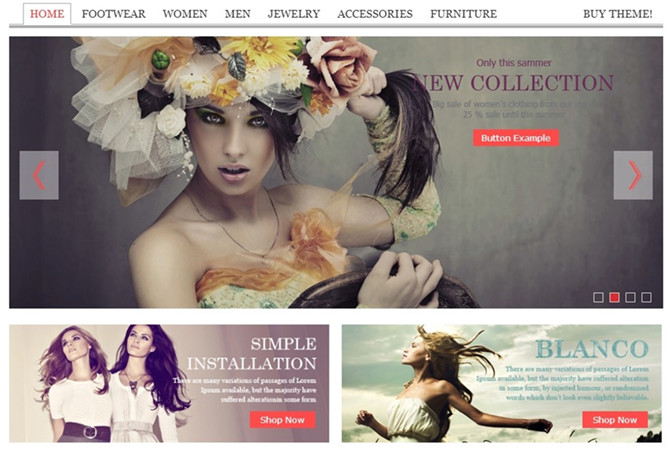 Canena
Website: http://www.mojo-themes.com/item/canena-multipurpose-responsive-magento-theme
If you are looking for an online store, Canena is a good choice for you.
Highlights:
3 stores available (fashion, furniture & sport).
Related products slider & upsell products slider.
Easy custom template without HTML, CSS only setting admin.
Featured products slider homepage & product tab homepage.
Bookstore
Website: http://www.mojo-themes.com/item/bookstore-magento-theme
Bookstore is made for Magento Community Edition 1.7.x with primary black colors, which offers a visual interface to tweak all typography and simple styles. This theme is perfect for stores that sell luxury items like watches, jewelry or glasses. Besides, Bookstore is responsive native, supporting all layouts from PC to mobile. In below, we have listed its main features.
Cloud Zoom for product images.
Custom wishlist page, cart page and 404 page.
Includes many premium extensions: SM mega menu, SM slick slider, SM slider, etc.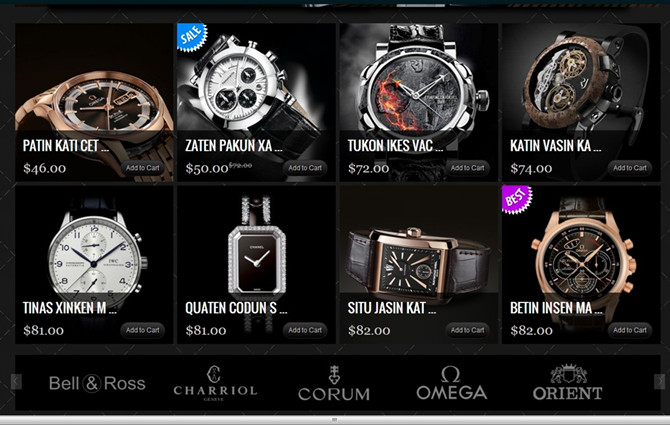 Ebajes
Website: http://www.zerocarts.com/demo/index.php?url=http://themes.halothemes.com/ebajes
Ebajes is an elegant and flexible theme, suitable for users with no coding knowledge as well as developers. This theme includes many options, which enables users to modify layout, styling, colors and fonts directly within the backend. In addition, Ebajes includes all demo content. Therefore, users can import demo content in 1 minute, and their theme will look like in the demo and add any design element in website pages very easy using short codes generator.
Highlights:
Fully responsive & customizable.
Over 500 Google fonts with live preview.
3 custom widgets & 3 levels of menu navigation.
XML demo content included & settings demo included.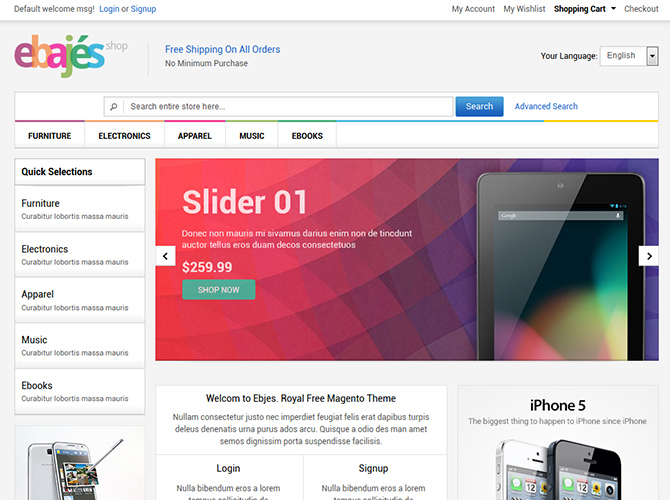 Sweet House
Website: http://livedemo00.template-help.com/free_magento_1_7_0_2
Sweet House is a multi-purpose theme with high-quality and many premium extensions included to improve website's usability. In addition, Sweet House offers a convenient theme to engage in attracting your customers by providing Facebook integration and quick promotion ads. Moreover, with cPanel right on the front-page, you can stylize SM Bakery to other themes that are suitable for your business.
Key Features:
4 skin themes available.
Category page with 2 layouts.
3 layouts for pages: 1, 2, or 3 columns.
3 types of menus: Mega menu, CSS menu and Split menu.