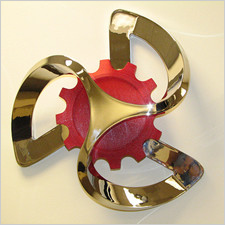 Working as an open source web application framework, DotNetNuke is intended to back people in simplifying the administration of the content of websites without mastering much technical knowledge and skills. By the reason of its superiority, there are plenty of masters hunting for a reliable company coming with DotNetNuke hosting of high quality.
After the test of customers and time, Arvixe, Host4ASP.NET and WinHost are proven to be the best providers for this application. We have listed the information of their services at length for your reference.
Arvixe
This company releases an exclusive package for this project that is named as DotNetNuke Web Hosting which is packed with rich features. To be specific, webmasters are capable of getting one domain name registration for free, unlimited space, data transfer, domains, and WebSitePanel control panel featuring an unlimited amount of emails, subdomains and databases.
Regularly, the price of the service is fixed at $5.00/mo that can be decreased with a 30% discount to be only $3.50/mo with the coupon code BWH360. Besides, 60 days money back guarantee and $175 extra bonuses in total are included.
Arvixe Coupon Code Activation
Arvixe is absorbed in offering secure, reliable and fast DNN hosting service, hence, it possesses several top-notch data centers in Houston and Dallas that are armed with more than 10,000 dual quad Dell servers with RAID-10 storage to fight with downtime. With concentrated attention, in practice, it successfully delivers 99.96% uptime and consumes 445ms in server response time. Please check the following chart for detailed statistics.
Host4ASP.NET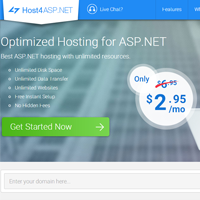 The service from this provider is highlighted for lots of advanced Microsoft technologies it utilizes, which play a momentous part for hosting with DotNetNuke. Specifically, these technologies include ASP.NET 2.0/3.5/4.0/4.5.1, Silverlight3/4, ASP.NET MVC 1/2/3, Windows 2008/2012, MS SQL Server 2008/2012 with reporting services available and 1-click installer of DNN, and so forth.
Including multiple attractive features and money back guarantee of 30 days, the service can be purchased starting at $6.95/mo on a regular basis. Now, 58% discount is available for all subscribers who sign up the service through the exclusive promotional link, getting the cheap price of $2.95/mo effectively.
Host4ASP.NET Promotion Link Activation
Since we have been its customers during the past 3 months, we have monitored its performance in these aspects. As a result, we found that its uptime is 100% and server response time is 309ms. Because of sufficient features and great performance, the service from Host4ASP.NET wins 100% overall customer satisfaction, which is demonstrated by the following chart.
WinHost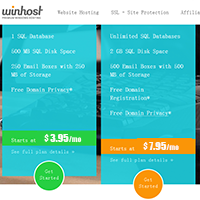 The DNN hosting from this company is based upon the latest Windows operating system featuring IIS8 that is designed to offer webmasters more choices in web applications including DotNetNuke. The service shines with lots of advantages as we have listed in below.
Budget-Friendly Price – The service includes 3 packages called as WinHost Basic, WinHost Max and WinHost Ultimate with the price starting at $4.95/mo, $9.95/mo and $19.95/mo that can be reduced to $3.95/mo, $7.95/mo and $15.95/mo only via clicking this promotional link.
30 Days Money Back Guarantee – This means webmasters are allowed to get a refund if they cancel the services because of dissatisfaction within the first 30 days.
1-Click Application Installer for DNN – Situated in the WinHost control panel, it simplifies the installation of a mass of open source ASP.ENT projects including DotNetNuke.
Indispensable Features for DNN – These features consist of FTP over SSL, DELL servers with 32 GB RAM & RAID 10 Disk Array, and SQL management studio access, unlimited domain pointers, etc.
Satisfactory Uptime – WinHost employs state-of-the-art data centers and advanced technologies guaranteeing 99.99% uptime shown by the following chart.