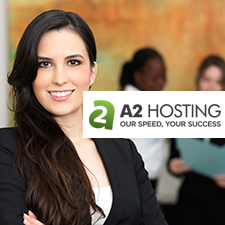 This review is concerning about A2Hosting – a famous web host that focuses on delivering the ultra-reliable hosting services for both newbies and professional webmasters. Note that we mainly discuss the price, features, reliability, speed, support, and company reputation based on our real hosting experience with this web host.
Up to now, we have been hosting our WordPress site on A2Hosting shared platform for more than 1 year, and kept monitoring the site closely. Besides, we have browsed a pile of customer reviews over the Internet. Therefore, this review is promised to be impartial.
Overall
Founded in August 2001 and based in Ann Arbor, Michigan (hence named as A2Hosting), this company offers multiple hosting options to customers, including shared, VPS, reseller and dedicated hosting services, among which the share web hosting is the most well-known one.
A2Hosting is a quality Linux hosting company, and has built their excellent industry reputation on offering super-fast speed, at least 99.9% uptime, 24/7/365 US-based guru crew support, and all-inclusive hosting packages. So far, this company has half a million of customers, and this number is still fast growing with over 1,500 new customers increased for each month.
A2Hosting Review > Price
Due to the fact that A2Hosting provides cost-effective web hosting services, the hosting price has been starting at $5.99/mo originally. At present, however, the web host has offered a 51% discount, which allows customers to purchase starting at $3.92/mo by going through the promotion link with the 1-year billing. Besides, if customers need SSD for a 300% faster page loading speed, they only need to pay $5.39/mo instead of the regular price of $8.99/mo.
| Billing Cycle | Discounted | Discount |
| --- | --- | --- |
| 36 Months | $3.95/mo | 34% Off |
| 24 Months | $4.61/mo | 34% Off |
| 12 Months | $3.92/mo | 51% Off |
In addition, the pricing of the service applies to billing circle, meaning that the longer term you purchase, the more money you save. The 3-year plan is the longest billing circle, which allows customers to save as high as $74.52. Besides, with A2Hostinig hassle-free 30 days money back guarantee, customers no longer need to worry about the waste of money when paying for a long term in one time.
In terms of the payment method, customers have multiple choices, including Paypal, Google checkout, 2CheckOut, bank transfer, Check or MO, and Credit Card (Visa, AmEx, Disc).
Also, the extra freebies are available that include $25 search credits for Bing/Yahoo, $20 Bidvertiser ads credits, and free iContact email marketing trial.
A2Hosting Promotion Link Activation
Features
It is important to point out that the hosting package offered by A2Hosting is all-inclusive. In addition to unlimited disk space, data transfer, email accounts, domains, and databases, all accounts also have access to a large number of competitive features like free Server Rewind Backups, free HackScan protection, free Railgun Network Optimizer, SSH, FTP, Cron etc. Some other great features are listed as below.
Moreover, A2Hosting is 100% compatible with all the popular scripts available on the web, including WordPress, Drupal, Joomla, and many more by offering the following features. The combination of these technologies can guarantee a great running environment for all the applications.
Apache 2.2 with mod_rewrite module 2.
MySQL 5.5, PostgreSQL 9.1, and SQLite 3.3.
PHP 5.2, 5.3, 5.4 and 5.5.
SuPHP supported for enhanced security.
Usability
In terms of the control panel, A2Hosting offers the widely used cPanel, which is easy to use and icon-based. With it, even new webmasters are able to manage their domains, email, software and databases with ease.
Besides, inside the control panel, customers can find an icon called Softaculous, which is used to install scripts (including WordPress, Drupal, Joomla, etc.) with a few simple clicks. In a word, setting up and managing a website, whether it is a personal blog or business site, can be a simple task there.
Below are some simple steps for blog creation with A2Hosting and the most popular blogging tool of WordPress:
Sign in A2Hosting official website, and then click the "Login" button in the top of the homepage. Input the domain ID and password and click "Login".
Scroll down to the website builders category, and then click the Softaculous icon.
Select the domain in which you wish to install WordPress and click "Install." Wait for Softaculous to tell you the installation is finished. Remember the temporary WordPress user ID and password.
Navigate to your WordPress control panel (address format is your site.com) and log in using your temporary name and password.
Begin building your own blog site.
Speed
A2Hosting is famous for providing a blazing fast shared web hosting service by utilizing the exclusive SwiftServer Platform, which is a product of high-performance hosting expertise with a lot of cutting edge technologies listed as following:
Railgun Optimizer

Railgun network optimizer in A2Hosting is aiming to accelerate the connections between each CDN data center and the origin server. Therefore, web pages can be delivered rapidly wherever the original web server locates. In fact, as we have tested in the real world, A2Hosting allows customers to get up to 143% faster HTML load times with Railgun.

CloudFlare Content Delivery Network

CloudFlare Content Delivery Network (CDN) is a powerful tool used to deliver the website content like HTML, images, and multimedia files to visitors with the swiftest speed and the highest level of security. As tested, this tool can boost the page loading speed 200% faster. Besides, different from other hosts charge at least $20/mo for CDN service, A2Hosting's CloudFlare Content Delivery Network is free for customers to utilize.

SSD (Solid State Drive)

The SSD (Solid State Drive) offered by A2Hosting is kind of data storage device, which utilizes integrated circuit assemblies to store data persistently. With this device, A2Hosting provide its customers with 300% faster page loads than other hosting companies. Besides, SSD has no moving mechanical components, which means that it has no spinning disks and movable write heads that contained by traditional hard disk drive, but more resistant to physical shock. These features offered by SSD provide A2Hosting a super reliable web host environment.
Apart from those mentioned technologies above, A2Hosting SwiftServer Platform is featuring 10 GB Redundant Network with dual fiber entrance, and multi-homed network connectivity via Savvis, Global Crossing, Cogent Communications, which is helpful for keeping everything up and running while an internet break occurs. And the Server Rewind backup program helps customers easily restore their data from saved snapshots when recovery is necessary.
As a result, A2Hosting has been keeping delivering an ultra-fast page loading speed in the passing 30 days. To be specific, the average server response time of this company approximates to 397ms.
Reliability
By leveraging the power of multiple advanced datacenters (located in Southfield, Michigan, Reykjavik, Iceland) with redundant network, redundant power supply, and many security measures, A2Hosting guarantees a 99.9% uptime. This web host is very open about its real-time uptime statistics. The uptime is tracked every 5 minutes by WebsitePulse from four different locations including Washington, Los Angeles, Brisbane and Desseldorf, and the results are transparent for everyone visiting A2Hosting Server Uptime Report.
Besides, if customers' websites are unreachable due to an internal network or equipment failure, this company will provide a refund in the amount of 5% of paid fee for the month. Obviously, A2Hosting is confident about its hosting reliability.
Support
A2Hosting does not outsource the customer service, but offers the US based Guru Crew technical support. The support staffs are professional and patient, and can be contacted 24 hours a day and 7 days a week. For the frequently asked questions related to hosting accounts, customers can find the answer in A2Hosting Community Forum or Knowledgebase.
Webmasters in USA and Canada are able to ask phone support via dialing 1-888-546-8946 while webmasters of other regions can dial +1734-222-4678. Besides, live chat is available through clicking the Live Help button on the official website of A2Hosting. Also, its ticket system allows webmasters to log into and the send ticket email.
Summary – Is A2Hosting Recommended?
The answer is YES! A2Hosting offers affordable pricing, blazing fast speed, 99.9% uptime, great customer service and a variety of competitive features, so we highly recommend the company for those looking for a cheap but reliable web hosting provider.
According to the statistics chart of A2Hosting reviews at BestHostingSearch.NET – a leading hosting review community, it shows that a large portion of the customers are highly satisfied with this company and the hosting service.