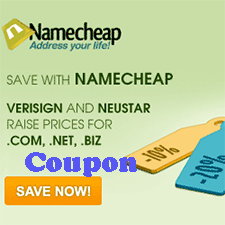 Are you still seeking the best discount for NameCheap web hosting services? In order to respond to our readers' demands for NameCheap coupon, we write this article to introduce some specific coupon codes information.
For details, just keep scrolling down and choosing the proper coupon code according to the unique requirements.
In the following, we show you some coupon codes for NameCheap services, including shared hosting and VPS hosting. Please check the list in below for detailed information.
Coupon Code : STARTHOST entitles customers to 20% off the first billing cycle for shared hosting;
Coupon Code : VPSBEGIN endows customers to 10% off the first billing cycle of VPS hosting;
STARTHOST > 20% Off Shared Hosting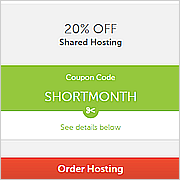 This company offers 4 web hosting packages, including Value, Professional, Ultimate and Business Expert. Different packages come with different billing cycles. To be specific, Value is offered with only 12/24/36 months subscriptions, whereas the rest packages are all provided with 1/3/6/12/24/36 months.
Without coupon codes applied, the price is starting at $2.95/mo, $5.59/mo, $9.06/mo and $15.59/mo respectively, which is only valid for the 3-year subscription.
Besides, without the Value package included, the monthly price is starting at $7.48/mo, $13.98/mo and $22.98/mo for the other 3 packages respectively. Now with promotion, readers using coupon code STARTHOST are able to enjoy 20% off the first billing cycle for all shared hosting packages.
After the coupon code applied, the price of the package Value can be cut down to $2.36/mo, which seems very affordable. However, this package Value is actually of little value. Because it offers no free domain name, extra freebies and site builders. Besides, it only comes with 25 GB disk space, 5 hosted domains, 50 subdomains, 5 websites, 50 FTP accounts and 50 email accounts.
VPSBEGIN > 10% Off VPS Hosting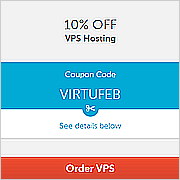 For VPS hosting, this company also provides 4 packages. They are called as VPS Lite–Xen, VPS 1–Xen, VPS 2–Xen and VPS 3–Xen. All packages come with billing cycles including 1/3/6/12 months. Regularly, the annual price is $16.95/mo, $26.95/mo, $44.95/mo and $63.95/mo.
Moreover, the regular price for a monthly subscription is $19.95/mo, $29.95/mo, $49.95/mo and $69.95/mo respectively. Now with coupon code VPSBEGIN applied, readers can enjoy 10% off the first billing cycle of all NameCheap VPS hosting packages.
Conclusion
From what we have mentioned above, we have introduced some coupon codes for NameCheap hosting service. Please note that these coupons are only valid in limited time. It seems that the discounted prices offered by NameCheap are quite attractive. Nevertheless, after our comprehensive review of the NameCheap web hosting service, it is not in its true sense cost-effective when considering the limitations.
Based on our real hosting experience and hundreds of real customer reviews, we spot a collection of budget and reliable web hosting providers in the following chart.