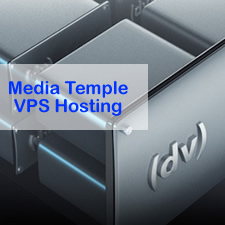 Media Temple has been proven to be a reliable and costly provider for shared web hosting and WordPress hosting. As the company also offers services on other levels, this review is made on the VPS hosting to reveal whether the virtual private servers from the company are worth buying.
As for VPS hosting, Media Temple provides 2 types of business-class services, one for businesses and eCommerce with demand on ease of use, and another one for developers and Linux geeks who want extreme flexibility and control. The details below are given based on the review on the DV plan which is designed for businesses. The reviewed aspects include pricing, VPS hosting features, uptime, speed and technical support.
Before beginning reading the detailed information about each aspect, refer to the ratings in the following chart first to get some overall statistics about the service's performance in some of the important aspects.

Plans & Pricing
Media Temple has released a sum of 6 plans named Level 1 to Level 6 to meet different demands on server resources. The plans are priced from $50/mo to $1500/mo respectively, which are a little expensive compared to the VPS hosting plans from most other reliable providers. Usually, people are able to afford a dedicated server with the cost of several hundreds of USD.
Customers are allowed to scale up or down their plans at any time depending on the real-time needs. Besides, the company offers a 30 days money back guarantee, with which webmasters are entitled to a full refund if they cancel their accounts within the first 30 days and send a request to get their money back. In short, the service from Media Temple is worry-free, backed by a trustful fund guarantee, but it is not affordable for most small business owners.
VPS Hosting Features
Using the service from Media Temple, webmasters have access to a guaranteed amount of RAM, disk storage and bandwidth which separates the plans apart from each other. For instance, Level 1 comes with 1 GB RAM, 30 GB disk space and 1 TB bandwidth which are enough for small online stores and personal websites. For the availability of the resources in some other plans, check the following table for details about Level 2 to Level 6.
| Resource | Level 2 | Level3 | Level 4 | Level 5 | Level 6 |
| --- | --- | --- | --- | --- | --- |
| RAM | 2 GB | 4 GB | 8 GB | 16 GB | 32 GB |
| Disk Storage | 50 GB | 100 GB | 200 GB | 350 GB | 600 GB |
| Bandwidth | 1.5 TB | 2 TB | 3 TB | 3 TB | 3 TB |
| Price | $100/mo | $150/mo | $350/mo | $750/mo | $1500/mo |
| Cost-Effectiveness | Medium-Level | Low | Low | Low | Low |
As for control panel, Media Temple gives all customers 2 choices – cPanel with WHM and Plesk, both of which are designed to make it easy to configure websites, manage billing information, and control reselling activities. Whichever people choose, they are able to gain a happy experience of managing their own server.
The virtual private servers are all pre-installed with multiple scripting languages including PHP, MySQL, Perl, Python and Ruby. All the servers are running on CentOS 6 with Apache 2.2 prepared. In addition, an auto script installer is available to assist people in installing hundreds of open source projects easily and quickly.
Uptime & Speed
All of Media Temple VPS hosting plans come with a 99.999% uptime guarantee which covers the uptime of hardware, network and infrastructure. Besides, the company offers a commitment that if the downtime in a particular month is more than 20 minutes in total, customers can request a credit of 20% of the hosting fee for each 20 minutes of downtime. Customers are responsible to report downtimes and they should request a credit within 5 days of the downtime.
As is claimed by the company, the uptime guarantee excludes the downtimes caused by customers' configuration of the server, FTP or email failure, unpredictable accidents, DDOS attack, and the problems of customers' physical locations. Since the data centers the company uses are equipped with redundant commercial power and backup power, along with 24×7 security, the servers should be reliable.
We have been monitoring Media Temple VPS hosting uptime and server response speed for several months, and we find that the virtual private servers are always online but respond not really quickly to requests. The statistics below are the monitoring results in the past 30 days.
Uptime: 99.95%
Server response time: 703ms
Technical Support
Media Temple offers 24×7 technical support for clients around the world. There are several ways to access the on-site engineers, including live chat, phone, email and Twitter. The award-winning support team really helps in getting websites and servers out of troubles.
Besides the standard support, the company also prepares CloudTech premium support plans. Subscribing to the plans, either On-Demand or Always-On, customers can get professional helping on the installation of applications, site performance optimization, security enhancement, and other advanced services.
Is Media Temple Recommended for VPS Hosting?
All things from Media Temple are good, except for the low cost-effectiveness and the a little bit slow server response. Due to the fairly large costs, the VPS hosting plans from Media Temple are recommended for large businesses with sufficient budget, but not small businesses. For people running personal blogs and small business requiring the power of virtual private servers, the choices below should be better.