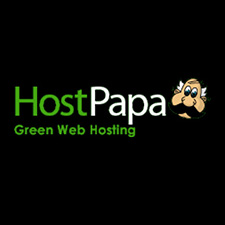 HostPapa is a 50/50 web hosting provider based on the review from the reputation, web hosting reliability, performance, technical support and price.
HostPapa is a private company operated based in Oakville, Ontario, Canada, designed to offer reliable, easy-to-use and customer-oriented web hosting solutions for personal, small to medium sized businesses throughout North America, Europe and Australia.
Based on our editors' real hosting experience, the prons of HostPapa are:
green web hosting service by purchasing 100% green renewable energy to facilitate their data centers, web servers, office computers, laptops and office space.
Canada domestic web hosting service – high-way connectivity in Canada.
Frankly, if your website is not targeted for Canucks mainly, HostPapa is not so competitive compared with the topnotch web hosting providers in the global stage, like InMotion Hosting, BlueHost, etc.
Price
HostPapa provides a single package which is pricing at $6.99/mo initially. Now, it offers a 44% discount and decreases the price to $3.95/mo. All the customers have the chance to get discounted price by visiting their home page.
money backOn the one hand, the company gives a 30-day money back guarantee. On the other hand, the policy is only valid for web hosting plans. Fees paid for domain names, domain privacy, setup fees, mobile websites, and any other add-on services are not refundable at all. Thus, the purchase is not completely risk-free.
In terms of payment methods, this company offers both credit cards and PayPal. Webmasters can choose from the two as they wish.
Effective Price
1 year plan

$5.95/mo

2 years plan

$4.95/mo

3 years plan

$3.95/mo
Payment Method
Credit Card

Yes

PayPal

Yes
Feature
HostPapa is a PHP-oriented web hosting service as they don't support Ruby on Rails, Python FastCGI, Perl FastCGI and PostgreSQL databases as the main web hosting companies, but the lots of free marketing credits included with the HostPapa hosting plan is really a spotlight in the marketplace. Considered with the HostPapa features as following, it's 100% compatible with the typical PHP open source projects including WordPress, Drupal, Joomla, etc.
Hosting Features
Disk Space

Unlimited

Bandwidth

Unlimited

Free Domain

1

Hosting Domain

Unlimited

Email

Unlimited

FTP

Unlimited

Full Refund

30 Days
Marketing Credits
Google AdWords

$100

Bing/Yahoo

$25

Facebook

$50

Amazon

$75

Miva Adv.

$25

Bidvertiser Adv.

$20
Scripts & Development
PHP

5.2.x

Python FastCGI

No

Perl FastCGI

No

Ruby on Rails

No

MySQL

Yes

Cron Job

Yes

.htaccess Overrides

Yes

Custom PHP.ini

Yes
Software
Control Panel

cPanel

Fantastico

Yes

WordPress

Yes

Joomla

Yes

Drupal

Yes
Performance
HostPapa is mainly operated in Canada. Their Canadian data center is topnotch but the colocated data center in New York is not in the first class. As a result, when you host with HostPapa, the user experience of the visitors from Canada is quite different to the visitors from US or other regions over the world.
For better understanding the HostPapa web hosting performance, our editors compared HostPapa with the reputed US-based web hosting companies including BlueHost and WebHostingHub from either Canada or US. As the result, the loading speed hosted with HostPapa for Canucks is the fastest, but it's the slowest for US residents.
When we proxied as a Canada visitor, HostPapa web hosting is approximately 18% faster than the largest shared web hosting provider BlueHost and 28% faster than WebHostingHub. When we tested the connectivity in a US node, HostPapa web hosting is the slowest. As you may learn from the following statistics, the HostPapa servers actually committed the powerful computing ability, but the web page rendering speed for the clients is not ideal due to the global internet bandwidth of the HostPapa data centers.
Community Reputation
The industry leading site BestHostingSearch.NET designed to rate web hosts based on the objective reviews received from the verified customers. So far, it has received over 4000 verified customer reviews for approximately 50 shared web hosting providers. However, unfortunately, we have only found 4 HostPapa reviews from their customers, although the 100% of HostPapa customers are satisfied with all the services, including the eco-friendly web hosting reliability, speed, technical support and price. Read the following statistics chart, or read each writes at this voting page. We're still looking for more HostPapa reviews, and will have a more exact review and rating for HostPapa.
Conclusion
As a conclusion, HostPapa is recommended for hosting websites targeted for the Canadian market especially for Canadian eco-protect businesses, but if you're looking for a web hosting service for global or US visitors, we recommend you going with the following recommendations.